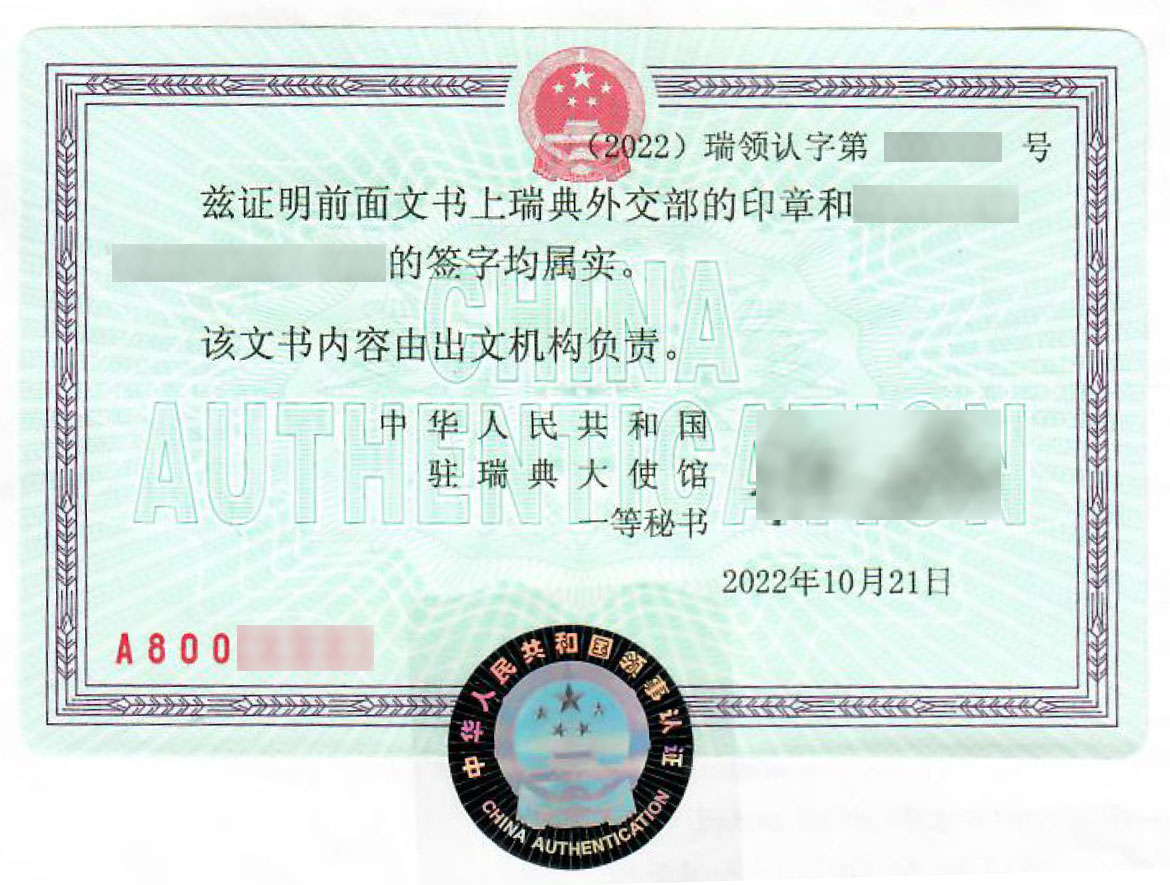 China is not a member of the Apostille Convention.
Documents destined for China need to be legalised by the embassy.
Legalisation step by step:
1. place an order and pay on this page.
2. Send documents to:
Legalisering.se
Box 7145
10387 Stockholm
3. Once the document has been legalised, it is then sent to your address.
What is the cost of legalisation at the Embassy of Jordan?
The cost depends on the type of document and the purpose of the legalization, e.g. register extract, marriage certificate, etc. In general, the document is usually divided according to use for commercial or private purposes.
You will be able to see the price on this page before completing your order.
What do you need to submit for legalisation at the Embassy of China?
In order to get the document legalised at the Embassy of China, we need:
Application form (Download application for legalization with Chinese embassy )
Documents in original and copy
Copy of the ID page of the applicant's passport
Power of attorney (click here to download)
How long does it take for documents to be legalised at the embassy?
It usually takes 2 weeks to get the document back from the time we receive a complete application.
Does the Embassy of China require translation of the document?
The Embassy of China does not require the document to be translated in order to be legalised. It is the relevant authority in China that decides whether the document needs to be translated or not.
If the original document is in Swedish, it usually needs to be translated into the local language before legalisation.
If you need help getting the document translated from Swedish to English, you can email us a scanned copy of the document to find out the cost and delivery time.
中国使馆认证
瑞典的文件(包括官方文件和非官方文件)在中国没有既成的法律效力,如果需要在中国使用,需要通过中国使馆的认证。
文件根据其自身的性质不同,认证程序也有差别。如果是官方文件,例如瑞典税务局出具的家庭关系证明原件带有签字和盖章,这类文件需要通过外交部进行认证,然后使馆才可以认证。如果是非官方文件,例如授权委托书,需要经过公正律师、外交部,才能进行使馆认证。我们可以提供所有步骤的认证。
使馆对于文件是否翻译成中文没有要求。实际操作中,如果是瑞典语的文件,一般需要翻译。如果是英文,需要看国内使用机关的要求。如果申请人需要翻译,我们会在文件递交使馆认证前进行翻译。我们使用的是授权翻译。如果您有翻译的需求,请把文件扫描通过邮件形式发给我们,我们会提供报价和所需时间。