We work on a daily basis with notarizations, apostilles and translations as well as legalizations at the Ministry of Foreign Affairs, embassies and the Chamber of Commerce. There are many different steps and regulations involved in a legalization process and it is not always easy to understand the process. That is why Legalisering.se has created a map that guides you, step by step.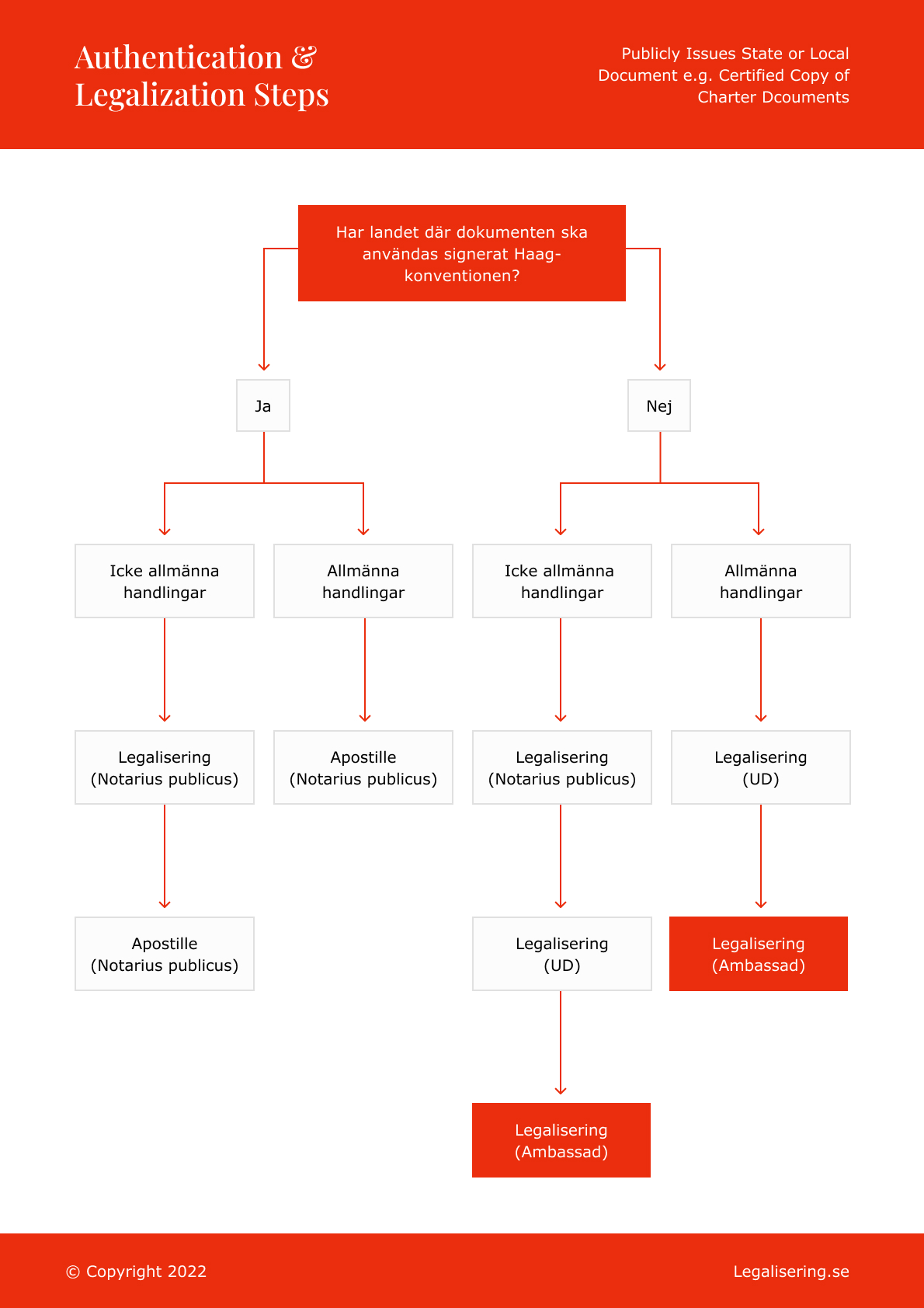 What are public documents/documents?
General documents from a governmental Swedish authority
Grades/certificates from universities and colleges
Documents/documents from Försäkringskassan and Arbetsförmedlingen
Documents/documents from the National and National Archives
Documents/documents that are not issued in Sweden and which have been certified by the respective country's embassy/consulate in Sweden
Signature from doctor, registered pharmacist, registered veterinarian, midwife and other professions registered by the National Board of Health and Welfare or the Swedish Board of Agriculture
Extracts from registers and other police documents
Swedish documents/documents signed by Notary Public
Swedish documents/documents (invoice, VAT statement, certificate of origin, trademark registration and other import and export documents) signed by the Swedish Chamber of Commerce
Marriage certificate/marriage certificate from civil marriage officiants
Translations made by an authorized translator appointed by the Kammarkollegiet.
What are not public documents/documents?
Copy, which lacks signature in original
Deed issued by a private person
Authorities
Grades/documents from schools other than universities and colleges
Invoices, VAT statement, certificate of origin, trademark registration and other import and export documents (these can also be certified by the Chamber of Commerce)
Actions from banks, lawyers and private companies
Documents from county council archives and municipal archives
Marriage certificate from non-civil marriage officiants (Swedish Church, foreign religious communities in Sweden)
Act translated by a translator who is not authorized by the Chamber of Commerce.
Is translation needed in the legalization process?
Translation is needed in many situations because many documents are issued in Swedish and foreign authorities do not understand the language. Therefore, documents may need to be translated.
When should the translation take place, before or after legalization?
When the translation should take place depends on the recipient. Some embassies require the translation before the legalization while others require the translation after.
Is an authorized translation a must?
In cases where we know that the translation must be legalized/stamped with an apostille, we try to use authorized translators. Depending on the language, the availability of the translator and the urgency of the matter, we may use ordinary translators. As a competent company, we can always provide a certificate.