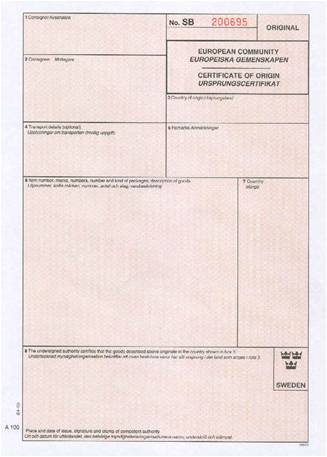 Order Certificate of Origin
How to order Certificate of Origin
1. Fill in the application for certificate of origin.
2. Send it by email to kontakt@legalisering.se
3. When the document is ready, we will post it to you.
or
Visit us at Legalisering.se, Kungsgatan 37, 11156, Stockholm.
Our service fee is 700 kr per certificate, not including VAT. We are going to send the invoice to your company when the job is done.
Chamber of Commerce
If you have plans to do business abroad, as well as other interactions with foreign companies and organizations, the documents must be prepared according to specific procedures. In many situations, for the commercial documents to be legally binding, the documents must be translated into the respective language and legalized or verified by the Chamber of Commerce.
Chamber of Commerce's legalization
Legalization by the Chamber of Commerce differs from legalization by the Notary Public and the Ministry of Foreign Affairs in terms of the scope and content of the documents. Usually the Chamber of Commerce works with commercial documents internationally, not personal documents.
It reflects the purpose and objective of the Chamber of Commerce, which is to promote economic growth and facilitate international trade.
The Chamber of Commerce works with the following documents:
• Contract
• Sales agreement
• Purchased/Rented/Leasing/Licensing agreement
• Bills
• Bills
• Shipments
• Price lists
• Transaction reports
• Commercial invoices
• Specifications
• Packing lists
• Quality certificate
• Warranty notices or replacement letters
• Test reports
• Version facts for delivery/instructions
For the countries that have not signed the Hague Convention, the documents need to be legalized by the respective embassy in Sweden. In some situations, the document needs to be legalized by the Chamber of Commerce first before the embassy can legalize it.
We offer help in creating various international trade documents issued by the Chamber of Commerce.
1. ATA Carnet
An ATA carnet is an international customs passport used for temporary export and import outside the EU. It can be used to declare customs to 87 countries and territories without having to pay customs duty and import tax on the goods that will be re-exported within 12 months. Carnets are also known as trade passports or passports for goods.
There are 87 countries and territories that accept the ATA-Carnet, see a full list of these here: https://www.atacarnet.com/carnet-countries
The ATA carnet can be used for temporary export of
• Commercial samples
• Professional equipment (Tools of the industry)
• Goods for fairs and exhibitions (Limited to 6 months)
Consumables such as agricultural products (Food, seeds, fertilizers, pesticides), explosives, disposable items and postal traffic cannot travel under an ATA carnet.
2. EUR.1
A EUR1 certificate is used to prove the origin of goods moving into EU territory. The certificate allows traders to import goods from certain countries at a reduced tax rate, or alternatively without paying any duty. The preferential treatment only applies to those countries where such trade agreements have been formalized with the EU.
3. Certificate of Origin
A certificate of origin is an important international trade document that certifies that goods in a particular export shipment are entirely produced, produced, manufactured or processed in a particular country. The certificate declares the product's "nationality" and serves as a declaration from the exporter to meet customs or trade requirements.