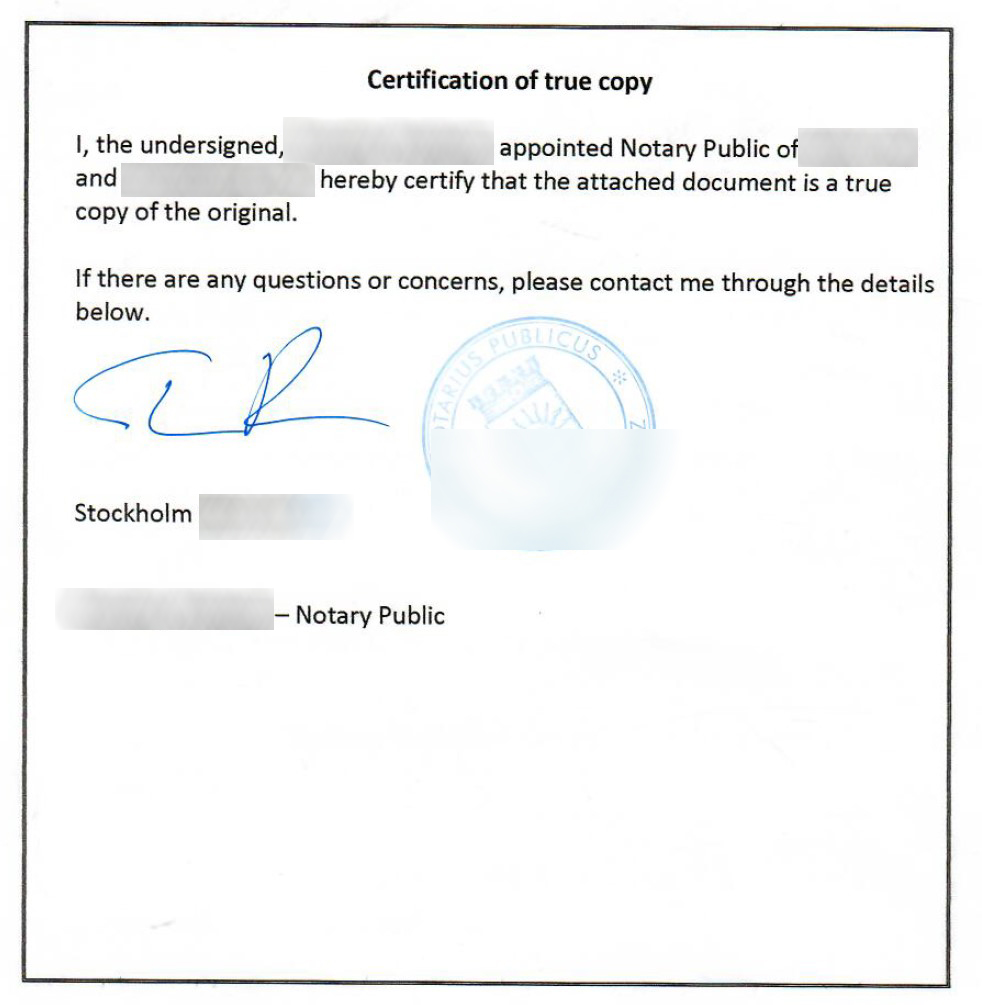 Certain documents must be notarized by a Notary Public before they can be apostilled or legalized by its respective embassy, ​​depending on the nature of the documents and where the document was is issued.
Notarization step by step:
1. Place an order and pay on this page.
2. Submits documents to:
Legalisering.se
Box 7145
10387 Stockholm
3. Once the document has been legalized, it is then sent to your address.
or
Visit us at Legalisering.se, Kungsgatan 37, 11156, Stockholm.
What is notarization?
Notarization means a certification of signature and authenticity of documents. Notarization is the first step before apostille and embassy legalization.
What is the cost of notarization?
You will be able to see the price on this page before completing your order.
What do I need to submit for a notarization?
Documents to be notarized
Copy of the ID page of the applicant's passport/identification card. (If it is for signature, we need a copy of the passport's ID page of the person signing)
How long does it take for documents to be notarized?
We strive to work as efficiently as possible, the handling time is between 1 to 5 working days.
Which documents must be notarized?
Usually the following documents must be notarized:
Copies that do not have a signature in the original
Documents issued by private individuals
Authorities
Grades/documents from schools other than universities and colleges
Invoices, VAT statement, certificate of origin, trademark registration and other import and export documents (these may also need to be certified by the Chamber of Commerce)
Actions from banks, lawyers and private companies
Documents from county council archives and municipal archives
Marriage certificate from non-civil marriage officiants (Church of Sweden, foreign religious communities in Sweden)
Documents translated by a translator who is not authorized by the Chamber of Commerce
Who does the notarization?
It is a Notary Public who does notarizations in Sweden. A Notary Public is a person who is basically a trained lawyer or jurist, who is tasked by the County Administrative Board to assist the public in authenticating and witnessing a wide range of legal documents.
A Notary Public fills an important position as a public official and provides a range of legal services related to for example powers of attorney, foreign and international business.
Legalisering.se cooperates with several Notaries Public and offer notarization services.